Grand Opening: Thank you, Macomb!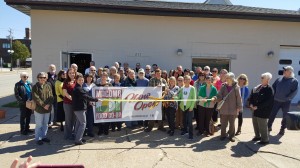 Several dozen of our favorite people, including volunteers, board and steering committee members, along with the Macomb Area Chamber of Commerce, celebrate the Grand Opening of our store at 211 S. McArthur with a ribbon cutting on April 12, 2016.
Throughout the week, we showcased our producers by offering samples, and a daily gift-basket drawing. Many stayed to answer questions from customers about their farming practices. Our thanks to Thistle Creek Orchard, Raised Right Sullivan Farms, HomeFresh Products, Little Creek Alpacas, M&M&m Farms, There's an Oil for That, Allison Farm (WIU Organic Research Program) Marsha's Critters, and Four Dirty Boys. We had live music from Dan Eilers, Bill Maakestad & Jean Davenport, the Eastenders (Ron Morrow, Jean & Brian Davenport), and the Lane Family Band. Gordon and Pam Rands made waffles (recipes available in the store!) to serve with sausage. On Saturday, April 16, Free Range Yoga and Community Wellness Center led Zumba, Tai Chi/Qigong, and strength and yoga demonstrations, while Spunky Dunker the Alpaca, along with Maude the Golden-Doodle and other animals charmed adults and children alike.
---
The Macomb Food Co-op is dedicated to selling local and regional fresh food and locally-produced items. We have two ways in which we are achieving this goal:  a weekly Online Market that connects local producers to consumers, and the store at 211 S. McArthur (at the corner of Washington and McArthur).
Hours:
Sunday – Closed
Monday – Closed (Online Market Closes at 9 a.m.)
Tuesday – 9 a.m. to 6 p.m.
Wednesday – 9 a.m. to 7 p.m. (Online Market Pick-up from 4-7 p.m.)
Thursday – 9 a.m. to 6 p.m.
Friday – 9 a.m. to 5 p.m. (Online Market Opens at 5 p.m.)
Saturday – 10 a.m. to 1 p.m.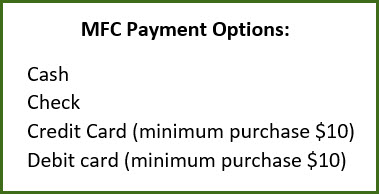 The Macomb Online Market is open for shopping each week from 5 pm Friday until 9 am Monday. Orders need to be placed during the weekend and are then picked up on Wednesdays between 4 and 7 pm. Access the Market by clicking on the Shop Online This Weekend link on this page.  A community member may shop as our guest for one month. After that, he or she will need to join the Co-op by purchasing a $100 owner share; an installment payment plan is available. Owner forms can be downloaded at the Become an Owner link on the menu bar above or can be picked up at our store location in Macomb.
Payment options are cash, check, or credit card ($10 minimum). Products currently available include:
Fair-Trade Organic Loose Leaf Tea, and Whole Bean Coffee (And we have a grinder!)
Fair-Trade Organic Chocolate
Organic Nuts and Dried Fruits, Bulk Grains, and Spices
In-Stock Local Grass-fed Beef and Free-Range Whole Chickens
Local Yogurt and Honey
Warm & Cozy Alpaca Socks
Anyone may shop at the store, but we have a wider variety available online. One of the benefits of becoming an owner is a 20% discount on fresh produce. Become an owner today! Co-op owners also have a vote and a voice in the future of the Co-op.
If you would like to volunteer on a Co-op committee, at the Online Market distribution, or at the store, email us at info@macombfoodcoop.net or call 309.255.5572.