Earth Day Birthday!
Little seedlings are sprouting up through the rich soil in West Central Illinois, and soon they will be all ready for your table! Come see us how much we have grown in this last year at our
Earth Day Outdoor Market & First Anniversary Celebration
on Saturday, April 22!
We'll have an outdoor petting zoo for the family, and producers will be selling directly to you outside. This is our way of letting you,
our customers
; you,
our shareholder/owners
; and you,
our producers
, know just how grateful we are for your support these last 12 months!
Hopefully, Mother Nature will cooperate like she did last year, so if you're headed to Chandler Park for EarthFest or the Bike Parade, come visit us a few blocks over! See how much we've grown since the seeds of Co-op were first sewn.
We will have one more outdoor market before the
Macomb Farmer's Market
opens on May 18, so keep your eye on this space or
Like us Facebook
to keep up with Co-op happenings.
Week After Week: Keep the Love Coming!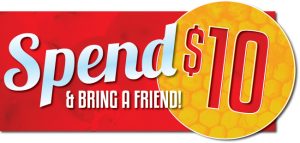 We are kicking off our
Spend $10 and Bring a Friend
campaign, hoping to inspire you to shop local every week AND make sure that all your friends and family are aware of how much we have to offer. People are always saying they didn't know that they didn't have to be a member to shop at the store. Let's get the word out!
Try something new every week and expand your culinary perspective! Share your recipes with us so we can try new things, too! We love to spotlight your kitchen adventures on
Facebook
. We are always adding new products to our store shelves, and most of those products have been suggested by you. If we don't carry something you want, let us know and we'll look into it.
Your consistent commitment to
Spend $10 and Bring a Friend
will help us continue to grow.
---
The
Macomb Food Co-op
is dedicated to selling local and regional fresh food and locally-produced items. We have two ways in which we are achieving this goal:  a weekly
Online Market
that connects local producers to consumers, and
the Store
at 211 S. McArthur (at the corner of Washington and McArthur).
Hours:
Sunday - Closed
Monday - Closed (Online Market Closes at 9 a.m.)
Tuesday - 9 a.m. to 6 p.m.
Wednesday - 9 a.m. to 7 p.m. (Online Market Pick-up from 4 to 7 p.m.)
Thursday - 9 a.m. - to 6 p.m.
Friday - 9 a.m. to 5 p.m. (Online Market Opens at 5 p.m.)
AND NEW EXTENDED HOURS!
Saturday - 10 a.m. to 3 p.m.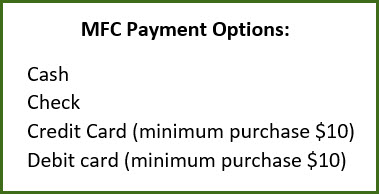 The
Macomb Online Market
is open for shopping each week from 5 pm Friday until 9 am Monday. Orders need to be placed during the weekend and are then picked up on Wednesdays between 4 and 7 pm. Access the Market by clicking on the
Shop Online This Weekend
link on this page.  A community member may shop as our guest for one month. After that, he or she will need to join the Co-op by purchasing a $100 owner share; an installment payment plan is available. Owner forms can be downloaded at the
Become an Owner
link on the menu bar above or can be picked up at our store location in Macomb.
Payment options are cash, check, or credit card ($10 minimum).
Products currently available include:
Fair-Trade Organic Loose Leaf Tea, and Whole Bean Coffee (And we have a grinder!)
Fair-Trade Organic Chocolate
Organic Nuts and Dried Fruits, Bulk Grains, and Spices
In-Stock Local Grass-fed Beef and Free-Range Whole Chickens
Sustainable, Single-line Caught, Wild Seafood from Alaska
Local Yogurt and Honey
Warm & Cozy Alpaca Socks
Personal Care Items for Bath, Laundry & Home
Anyone may shop at the store, but we have a wider variety available online.
One of the benefits of becoming an owner is a
20% discount on fresh produce
.
Become an owner
today! Co-op owners also have a vote and a voice in the future of the Co-op. If you would like to volunteer on a Co-op committee, at the Online Market distribution, or at the store, email us at
info@macombfoodcoop.net
or call 309.255.5572.