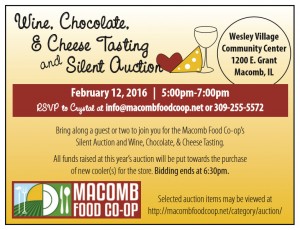 The fifth annual Macomb Food Co-op Silent Auction & Wine, Chocolate, and Cheese Tasting will be held the evening of Friday, February 12, 2016, at the Wesley Community Center, 1200 E. Grant. Doors open at 5:00 p.m. and bidding ends at 6:30 p.m. The money raised at this event will go towards the purchase of cooler(s) for the mini-store.
Come and enjoy sips and nibbles as you bid on a variety of unique and valuable items and services. If you would like to donate an item or service for the auction or know someone who would like to donate, please contact Jill Foster at chtrbx59@gmail.com. Deadline for donations is Friday, February 5.
You can view featured donated items by going to http://macombfoodcoop.net/category/auction/
---
The Macomb Food Co-op is dedicated to selling local and regional fresh food and locally-produced items. As of 2016, we have two ways in which we are achieving this goal:  a weekly Online Market that connects local producers to consumers and a store. You can find us at 211 S. McArthur in Macomb, and our hours are 9am-5pm, Tuesday-Friday.
The Macomb Online Market is open for shopping each week from 6 pm Friday until 9 am Monday. Orders need to be placed during the weekend and are then picked up on Wednesdays between 4 and 7 pm. Access the Market by clicking on the Shop Online This Weekend link on this page.  A community member may shop as our guest for one month. After that, he or she will need to join the Co-op by purchasing a $100 owner share; an installment payment plan is available. Owner forms can be downloaded at the Become an Owner link on the menu bar above or can be picked up at our store location in Macomb.
The store is located at 211 S. McArthur in Macomb, and our hours are 9am-5pm, Tuesday-Friday, with extended hours on Wednesday for Online Market pick-up. Products currently available include:
Fair-Trade Organic Loose Leaf Tea, and Organic Whole Bean Coffee (And we have a grinder!)
Fair-Trade Organic Chocolate
Organic Nuts and Dried Fruits, Bulk Grains, and Spices
In-Stock Local Grass-fed Beef and Free-Range Whole Chickens
Local Yogurt and Honey
Warm & Cozy Alpaca Socks
Anyone may shop at the store, but not all products the co-op handles are available in-stock in the store. Some can only be purchased through the Macomb Online Market, so become an owner today! Co-op owners also have a vote and a voice in the future of the Co-op.
If you would like to volunteer on a Co-op committee, at the Online Market distribution, or at the store, email us at info@macombfoodcoop.net or call 309.255.5572.